There is no better form of motivation than recognition and appreciation! 
Built with a team of passionate people, SPAN has always been the place where employees thrive. With commendable dedication and passion, people at SPAN have made some invaluable accomplishments and contributions throughout the year, and we felt immense pride in recognizing them at our 12th Anniversary Celebration, SPAN Get O Gala, held on September 23, 2023.
From identifying and recognizing noteworthy individual contributions to honoring unparalleled team efforts, the SPAN Get O Gala gave us the opportunity to stand up and appreciate our fellow SPANians for all their hard work and commitment.
Here, we are presenting the list of annual award winners under each category.
Best Coach of the Year
A good coach can identify and nurture the talent in you more than yourself! Here are the best coaches of the year.
Ranjith N – Senior Software Engineer (Dotnet)

Kishorekumar M – Assistant Manager (Dotnet)

Top Innovator of the Year
Even in this digital era, there is no AI that can top the innovation that can emerge from human intelligence. Here are our top innovators of the year.
Aruna M – Software Engineer (Node Js)

Dhurga B – Lead Software Engineer (Dotnet)
Customer Champion of the Year
Our burning desire to exceed customer expectations will never cease. Here are the ones who emerged as champions in ensuring customer experience.
Ananth Rajendran – Network Software Engineer (Network Admin)


Devasenabathy S M – Senior Business Analyst (BA)


Venugopal C – Senior Customer Success Executive (Customer Success)

Best Performer of the Year
Emerging as the best from an abundance of talents is really commendable and deserves to be appreciated. Here are our best performers of the year.
Raghul Sabari – QA Engineer (QA)

Gopinath B –  QA Engineer (QA)

Saran Santhosh K – Junior Security Engineer (Security & Compliance)

Prince Wesly – Junior QA Engineer (POAT)

Velu Boopathy – Web Designer (Web Designing)

Abhinandhan GM – Content Writer (Content Writing)

Kowsalya M – Web Designer (Web Designing)

Balaji M – Talent Acquisition Executive (HR)
Operational Excellence Award
One of our core values is 'Operational Excellence is Sacrosanct'. Here are the ones who act as great examples in abiding by that.
Leelavathi V – Software Engineer (Dotnet)

Sridhar B –  Business Analyst (BA)

Janaki V – Senior Software Engineer (Dotnet)

Batsha N – Lead QA Engineer (QA)

Boopathi V – Lead Digital Operations Analyst (Digital Operations)
Employee of the Year
It takes a lot of zeal and persistence to get recognized as 'Employee of the Year'.  Here are the ones who achieved that this year.
Hariharan M – Software Engineer (Dotnet)

Vivek S – Digital Marketing Analyst (Digital Marketing Analyst)

Suganya B – Senior Software Engineer (Dotnet)

Gunalan D – Senior Graphics Designer (Web Designing)

Abdul Samad S – Senior Software Engineer (Dotnet)

Karthiga G – Senior Software Engineer (Mobile App)

Selvaraj D – Senior Business Analyst (BA)

Subramanian U – Lead Software Engineer (Dotnet)

Abdul Rahman A – Lead Web Designer (Web Designing)

Udhaya Girishan S – Lead QA Engineer (QA)

Prasanthkumar R – Lead Software Engineer (Dotnet)

Tamilarasi M – Lead POAT (POAT)

Lakshan S – Lead DevOps Engineer (DevOps)
Special Mention Award
Even the smallest of achievements are meant to be appreciated. Here are the ones who received special mention awards.
Vani Mounica Athkuri – HR Specialist (TA & Engagement)

Balaji Shankar – Senior Customer Success Executive (Customer Success)

Ajith Kumar M – Junior QA Engineer (POAT)

Pravin Balaji M – DevOps Engineer (DevOps)

Rajesh R – Digital Marketing Analyst (Digital Marketing)

Vinoth D – Asst. Manager (Digital Compliance)
Milestone Achievements Award
It's important that we take some time to celebrate the milestones in our journey to success. Here are the people who won the Milestone Achievements award.
Anand G – Vice President (Security & Compliance)

Andros Vijay G – Manager (QA)

Sunil Prabhu K – Manager (BA)





Arun Balaj K – Manager (BA)

P.K.Prasanth – Program Manager

Sathish S – Manager (Software Engineering)

Kasthuriramachandran H –  Manager (Software Engineering)

Deepan G – Manager (BA)

Shanmugapriya K – Asst.Manager (QA)

Ramaraj I – Manager (Software Engineering)
CEO Awards
Getting appreciated by leaders who inspire us is always special! Here are the teams and the individuals who are nominated directly by our beloved CEO, Naga Palanisamy.
Teams
TaxBandits 1099/W-2 Development – SPAN Super Squad

Tax990 Development – Pinnacle Performer's

ExpressTruckTax – Glory Story of SPAN
Individuals
Govindaraj M – Branch Manager

Sunil Prabhu K – Product Manager (BA)

Deepan Govindaraj – Product Manager (BA)

Prasanth PK – Program Manager

Ramaraj Inbaraj – Manager (Software Engineering)
Expressing our hearty congratulations to all the award winners! Way to go!
Words have power! The power that can inspire you, the power that can transform you into a greater personality, and the power that can take you to the greatest of heights. Especially when they come from the people who inspire us!
While the significant part of the SPAN Get O Gala held on September 23, 2023, was filled with fun, laughter, appreciation, and joy, it also gave us a chance to listen to some great speeches and presentations courtesy of our leadership team and the beloved chief guests.
It was our Thought leader, Executive Coach, & Mentor, Vasanth Trivellore Pattangi, who set the tone for the stage with his words of wisdom. He outlined SPAN's progress and the efforts we make toward becoming a Great Place to Work For. It was mind-blowing and captivating, as always!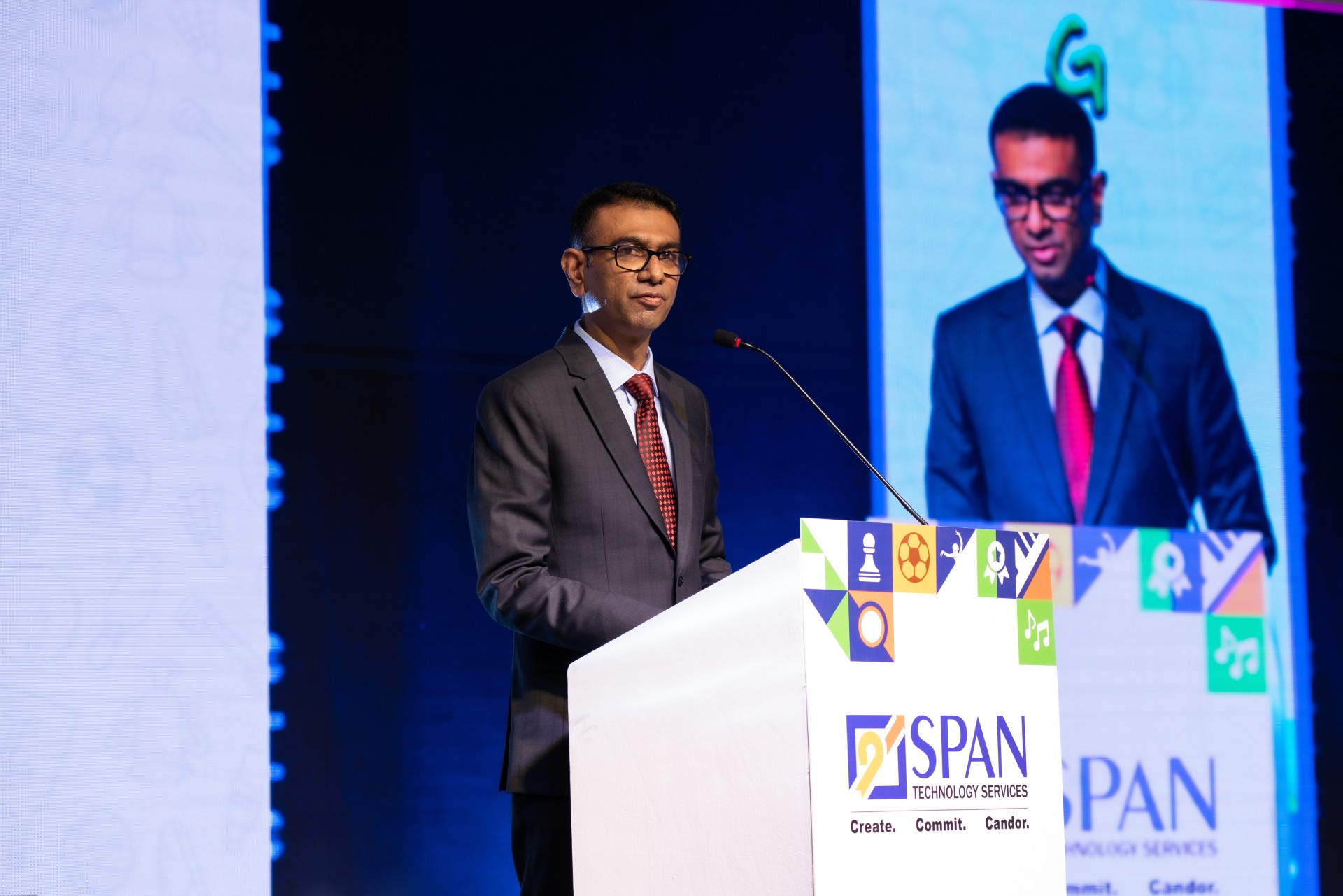 Then, our Sanjeev Thazhathaveetil, Managing Director, delivered the welcome speech, addressing the Chief guests, the Leadership team, and, of course, all the SPANians.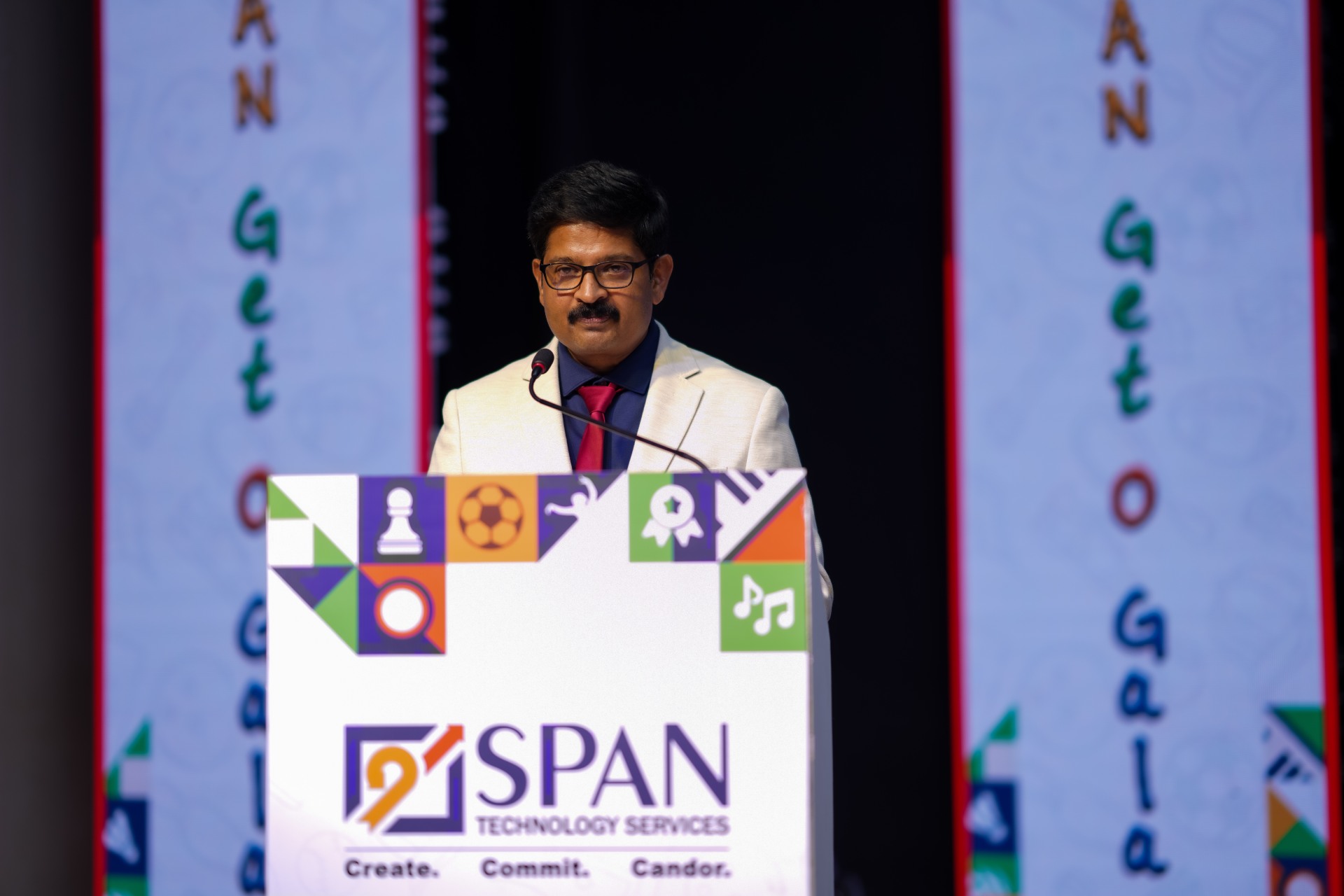 Our Journey Before and Journey Ahead!
Our Co-founder and CEO, Agie Sundaram, then delivered a crisp speech in his very own way. He briefly elaborated on how SPAN has become one of the leading product companies in India. He expressed his delight in witnessing the SPAN's growth over the years.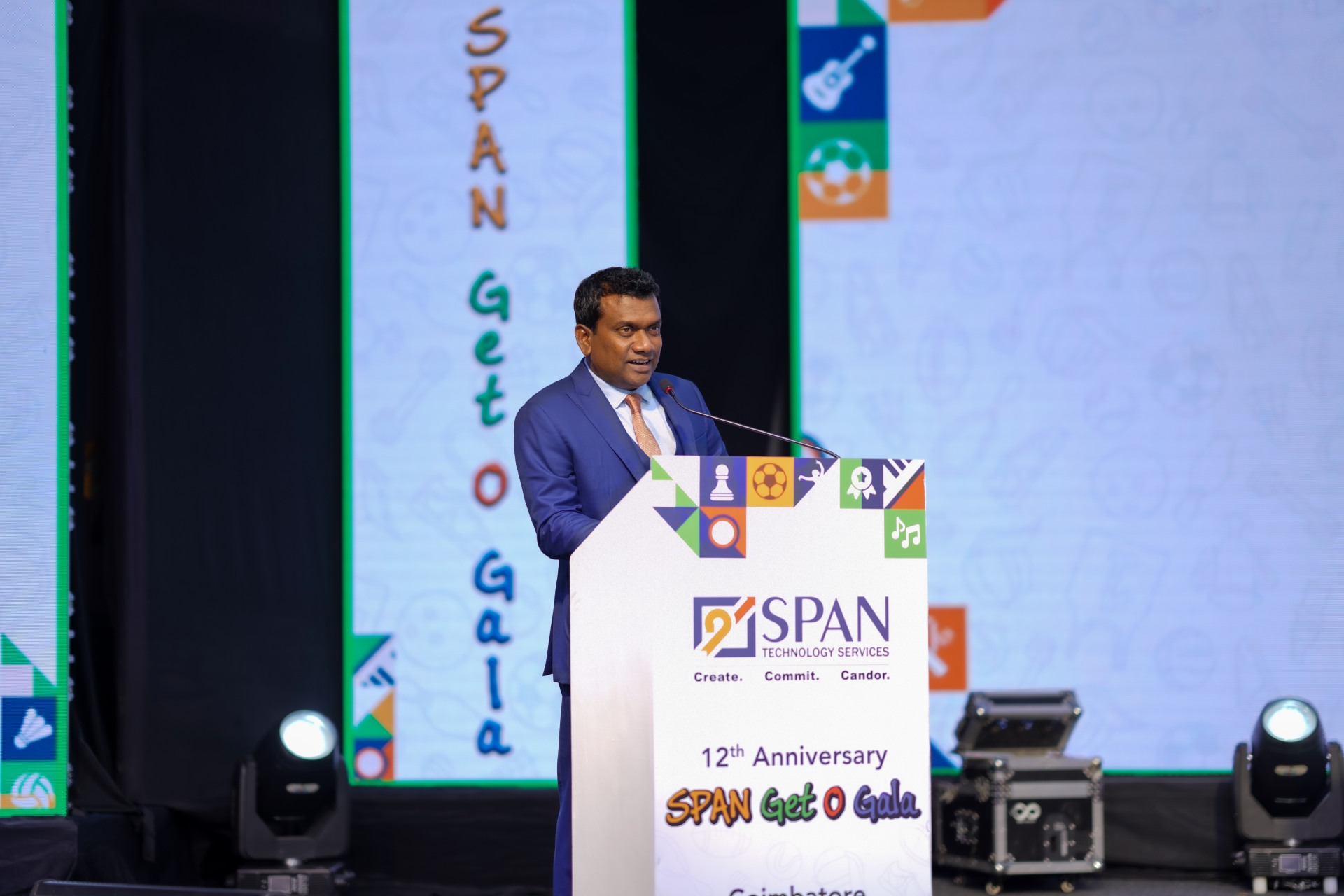 He highlighted the key moments and accomplishments of SPAN in the past year and provided us with a glimpse of what we are up to in the upcoming years.
The most highlighting moment of his speech was the biggest announcement he made about SPAN Ventures!
The objective of SPAN Ventures is to encourage and enable a startup ecosystem in Coimbatore. Our aim is to allocate 2000 sq. ft of space in 2023 for a startup incubation center. Our goal is to have 25000 sq. ft of space for startup incubation in the next five years.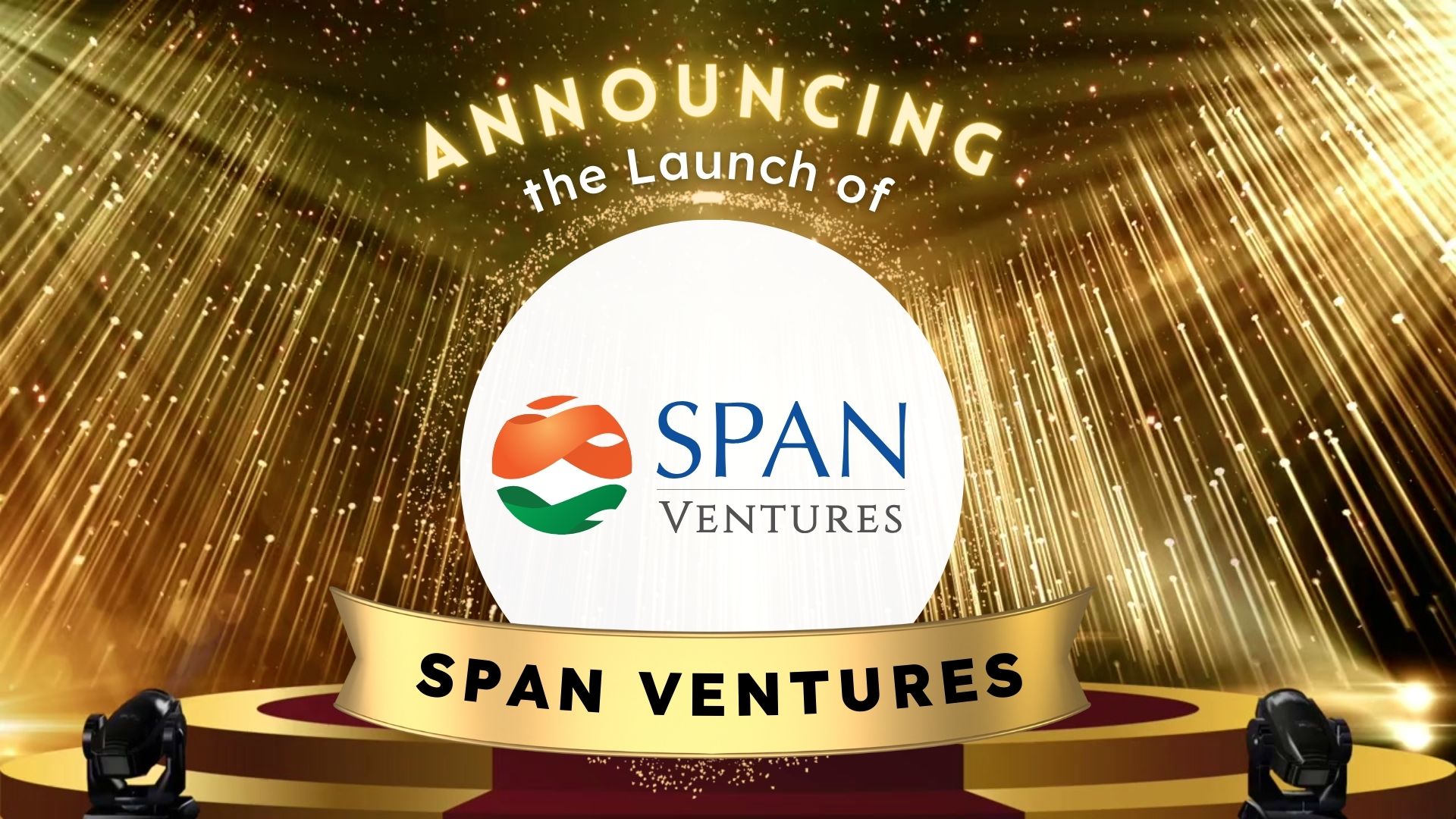 Following him, it was Naga Palanisamy, our beloved CEO and Chairman, who delivered his trademark morale-boosting speech. From taking us through his journey of success to emphasizing the focus on SPAN's future, it was the most awaited speech of the day – a much-needed dose of inspiration.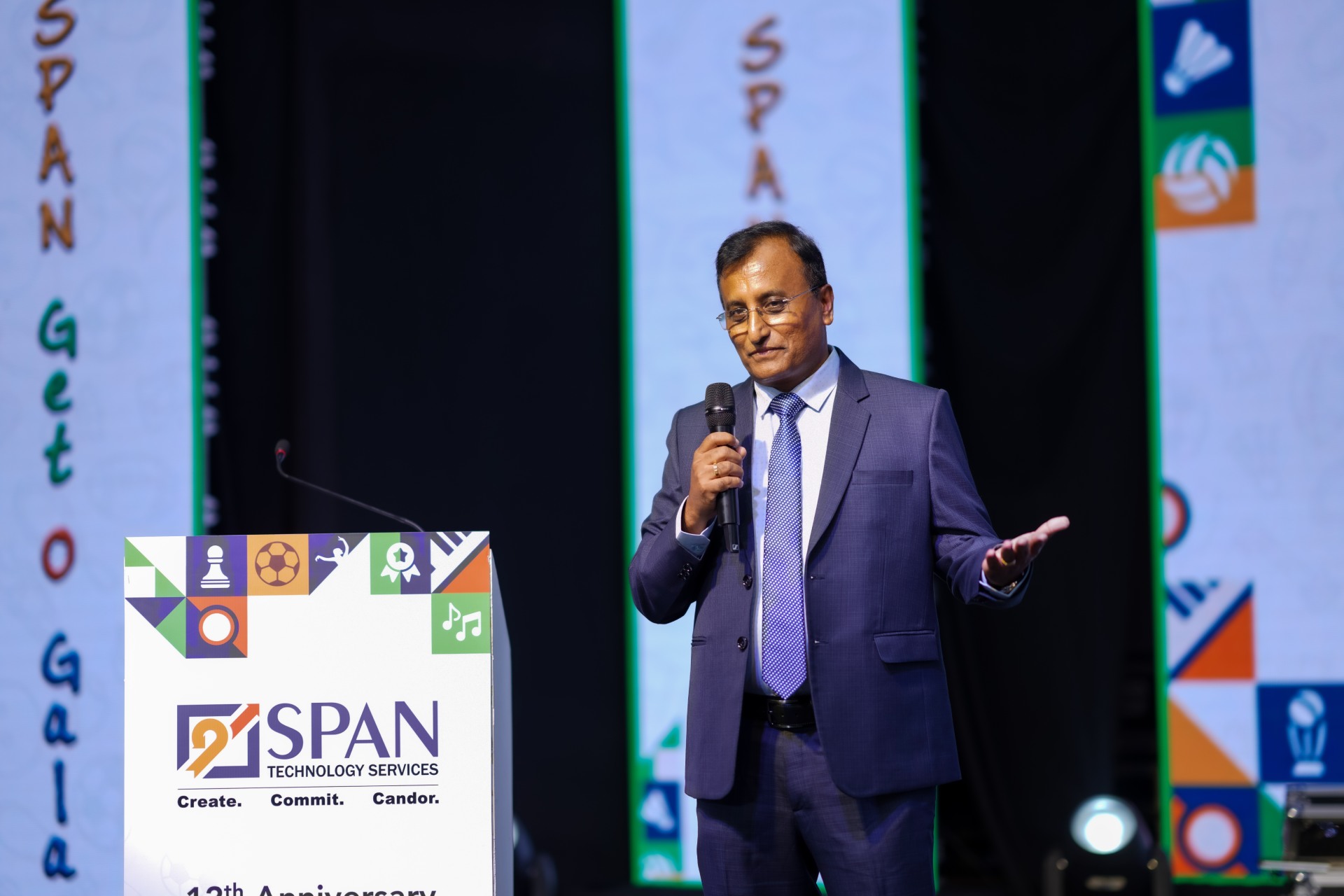 Through his speech, every SPANian was able to visualize how SPAN was in the past, how it has evolved, and how its future is going to be – a super force in the industry and a great place to work for the employees.
Inspiring Speeches Delivered by the Chief Guests!
It was extremely inspiring to hear the wisdom words from our chief guests.
S. Davidson Devasirvatham IPS, ADGP, Police Headquarters, Tamil Nadu
A shining example of the highest standards of professionalism and commitment, known for his exceptional leadership and impact in the realm of law enforcement.
He emphasized the importance of staying humble, honest, and dedicated to work. It was absolutely motivating.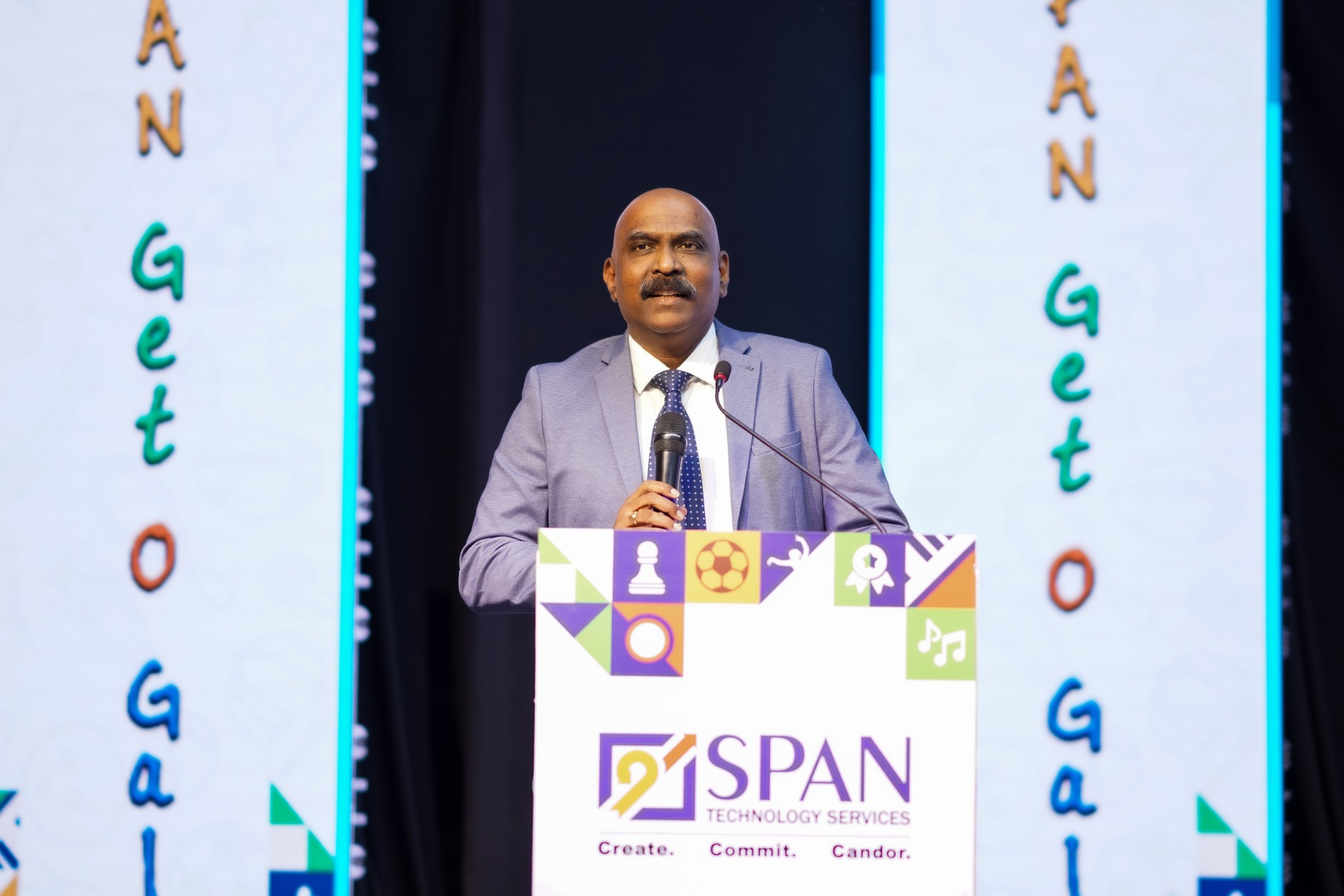 Sundara Easwar B, CEO, Purple Pond Insurance Brokers Pvt. Ltd.
An inspiring and multidimensional leader who brings a wealth of expertise in transforming the healthcare and financial industry with unwavering passion.
He delivered an inspiring and professional speech that emphasized the importance of adaptability in today's business landscape, motivating us to embrace change, face challenges, and strive for excellence.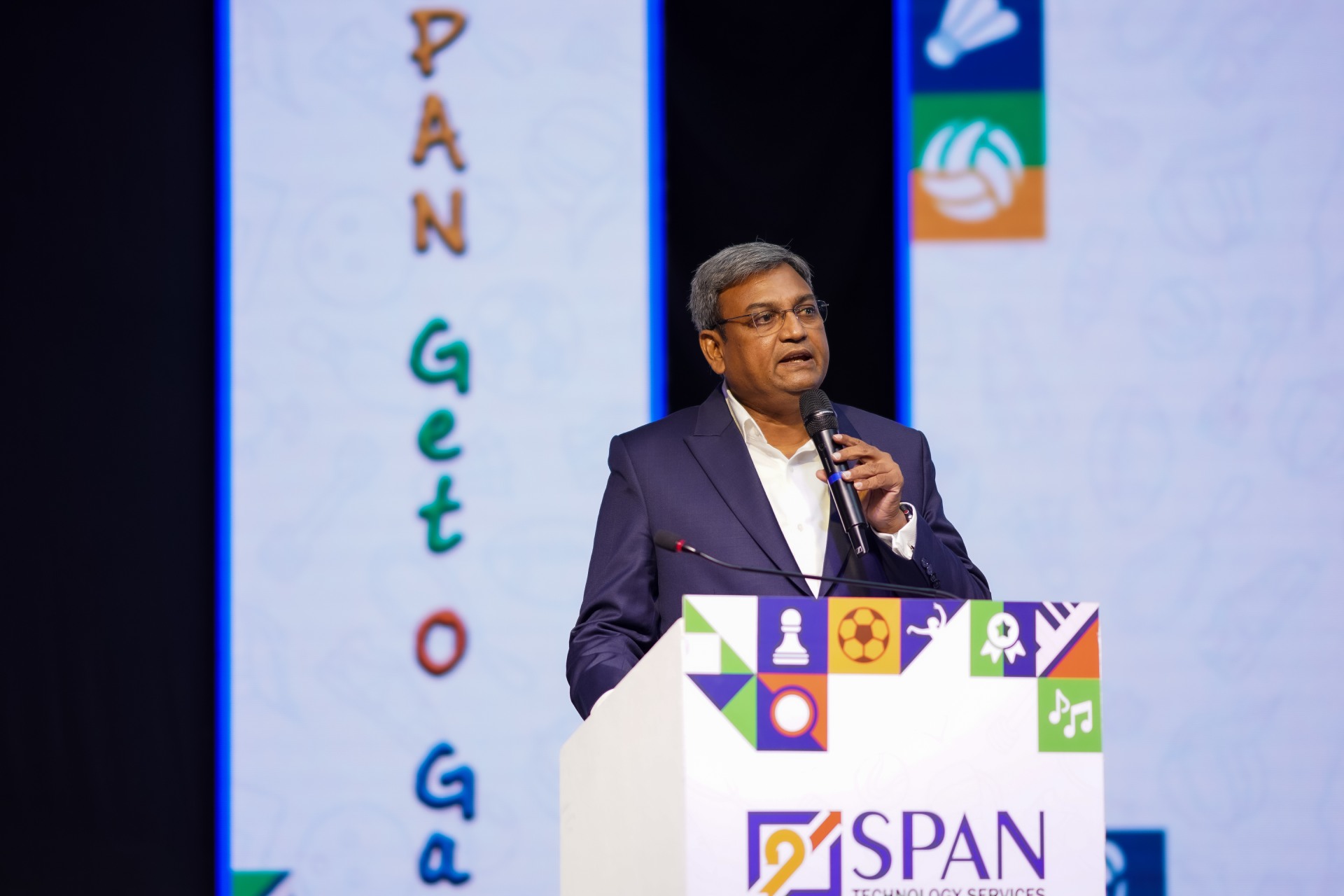 S Saravanan, Director, Purple Pond Insurance Brokers Pvt. Ltd.
A Visionary Entrepreneur, Leader, and Innovator, Transforming Healthcare and Finance with Inspiring Success Stories.
He communicated the significance of attaining financial stability in our lives and what are the things we should ensure to do so. It was enlightening to all of us!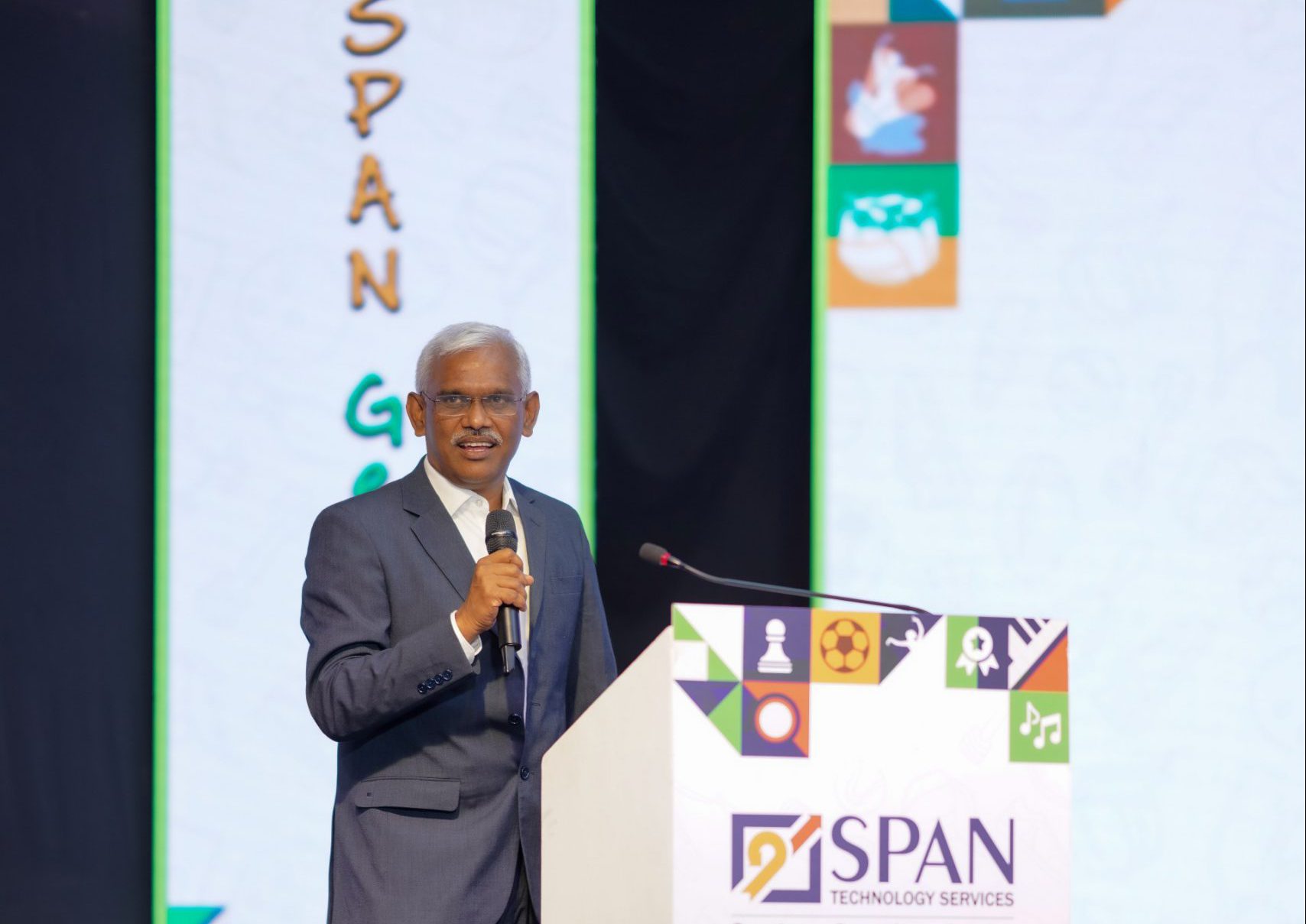 These people's words have made sure that we take not just memories from this unforgettable day but some positivity and inspiration as well!
Do you believe superpowers are possible only in fantasies? Because that's not the truth!
Thanks to all the women out there, this world is never short of superpowers! As an affectionate mother, a caring sibling, and an adorable life partner, women have made and continue to make our lives beautiful and blessed with their superpowers.
March 8, International Women's Day, has always been the day every year when we get together to celebrate all the women around us.
We at SPAN have never missed out on any opportunity to celebrate and recognize all the incredible women we have with us, and this women's day isn't an exception!
For this year, 2023, the theme for International Women's Day is #EmbraceEquity!
It strives to insist on why "Equal opportunities are no longer enough, as people start from different places, so true inclusion and belonging require equitable action."
Equality Vs Equity
The terms "Equality" and "Equity" may sound similar. But, there is a significant experience.
Equality is all about providing every individual or group with equal resources or opportunities and setting them the same target to achieve.
Whereas Equity is more about providing required opportunities or resources for each individual based on their circumstances.
Articulating the Motto of Women's day 2023!
This world has evolved and continues to evolve as a better place to live for every woman. But it's still not enough.
Often, we talk about gender equality, we talk about avoiding gender discrimination. But these are the things that we shouldn't just talk about but try to embrace in our day-to-day lives. We need a change, and we need this place not only a better but the best place for every woman to live, achieve and enjoy their life.
Change is a big thing, and we cannot make it happen just like that. Every one of us should have a common goal.
Of course, our goal is to achieve equality. But the means to achieve that should be equity! Having a society filled with positivity and equality is what we yearn for, and we should embrace collective activism for that.
Let this day be the start of building a positive and inclusive society.
A very Happy Women's day to all the inspiring, wonderful, and incredible women out there!
There was a time when software development was one heck of a mountain to climb, and the emergence of many valuable technologies and methodologies made it easier as the years passed by.
But, there was one thing that made its entry into the world of the IT industry and changed it forever, DevOps!
If you aren't much familiar with DevOps, here is a quick summary,
"DevOps is a set of practices that combines Development (Dev) with (Operations) to build a worthwhile product within a short development cycle."
Ever since DevOps came into existence, developing and deploying a new product is never a bigger task.
When you need to understand how bigger the impact of DevOps is on the software field, isn't it essential to know how software development was before its arrival?
Before DevOps
Ever since 1948 (the year when the first piece of software was developed and installed in a computer), software development has typically followed a 'Waterfall Model'.
In this method, the development is carried out in sequential phases, wherein the software gets modeled, evolved, and developed step-by-step. Each phase will have its own different objectives, and the software will reach the next phase only when the objectives of the current phase are met.
As you think, this takes a lot more time to get a fully developed product. 
After DevOps
When DevOps entered the scene, the first thing everyone was impressed with was its collaborative approach. Facilitating an improved interaction between the teams involved, DevOps not only shortens the development cycle but also provides an easy way to track how the product is getting developed in various phases.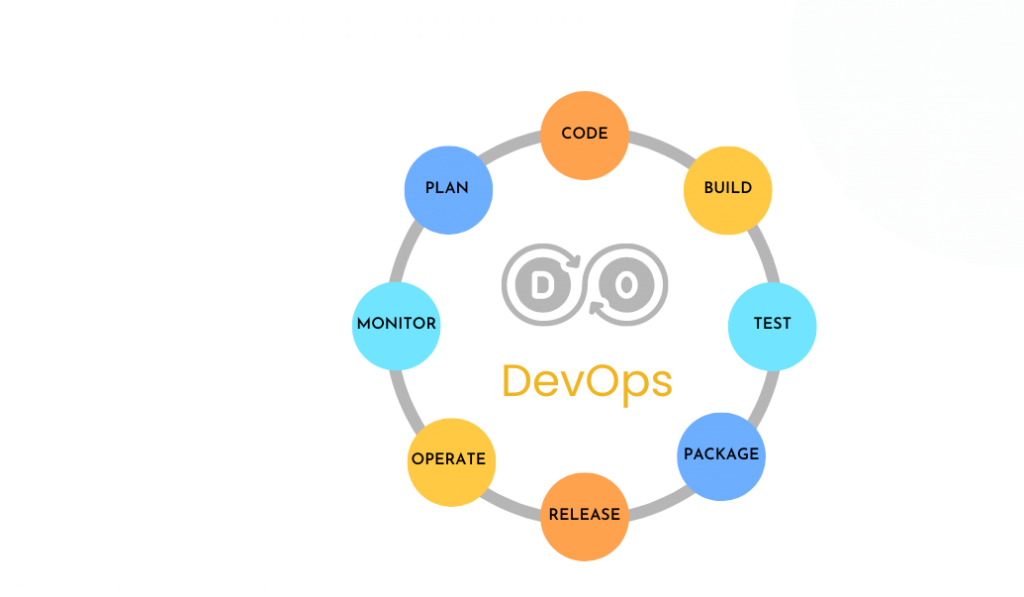 Undertaking DevOps practices, the leading IT firms around the world have developed high-quality products at a high pace, and SPAN technology is no exception.
We make the best use of numerous DevOps tools in developing high-quality products that consistently exceed our customer expectations. Here are a few of them:
Jenkins
Jenkins is an open-source automation server that facilitates the automation of various phases of software development through more than 1800 plugins. Enabling Continous Integration (CI) and Continous Delivery (CD) of projects, Jenkins paves the way to integrate our chain of build, test, and deployment tools. 
With Jenkins, the repetitive tasks involved in the development cycle can be automated while we can focus solely on other crucial tasks.
Ansible
Ansible is another open-source, cross-platform automation tool used in DevOps practices for the continuous delivery of software code through an 'Infrastructure as Code' approach. 
What is Infrastructure as Code?
Infrastructure as Code (IaC) is the process of managing and provisioning infrastructure through code instead of manual processes such as physical hardware configurations.
Apart from automation, Ansible also simplifies redundant tasks in software development.
Docker
Docker is a software platform that infuses the Containerization approach in software development, wherein everything the software requires to function (including libraries and code) is packed into Containers. 
The Docker containers streamline the pipelines in DevOps. Therefore, the developers can have complete control over what's within the container and how the containers and services function together as an application across environments.
TerraForm
Terraform is an open-source IaC tool that can be used to build, modify, and version infrastructure efficiently and securely using a declarative language called the HashiCorp Configuration Language (HCL).
Not only the configuration management, but TerraForm also takes care of the Orchestration. DevOps Orchestration is nothing but the automation of numerous processes involved in software development.
Our vision is to develop products that exceed our customers' expectations, and we are always ready and willing to embrace any new technologies for that.
These are just a small sample of how we make the best use of DevOps for the development of our products with the utmost quality and perfection. 
Want to be part of our thriving DevOps team?
Keep tabs on our Careers page for more updates on the available vacancies.
Do you know what makes our work more than just a way to make a living? Passion!
Passion is not just about finding what you do well. It's about finding the work that keeps you always inspirited no matter what.
Of course, building a successful career is what we all strive for!
You know what? When you are passionate about the work you do, you are halfway through achieving success. Especially when you want to build a career in the field of Information Technology, you must have that burning desire to learn and explore new things.
The IT field is extremely vast, and there are boundless aspects involved. Working with new technologies, Discovering solutions for existing challenges, or Developing innovative applications; what are you passionate about among all these? It's crucial to understand that.
And, when you have a clear-cut knowledge of areas you are passionate about and pursue your career in those areas, your work will automatically be fascinating and inspiring.
For example, take a look at Sundar Pichai! Having started his career as a Materials Engineer, Sundar discovered his passion for technology soon, and that paved the way for him to be the CEO of Google and an Idol for many!
Look at Mark Zuckerberg, the CEO of Meta platforms. Twenty years back, nobody would have believed if you said that a college dropout would change the world forever with his technological innovations. But he made it possible with his relentless passion for technology.
Here is another good example! Got fired from a company, and 12 years later, he returned back to the same company and not only revived it from getting bankrupt but made it one of the tech giants in the world. Yes, you guessed it right! It's Steve Jobs, the co-founder, and chief executive of the brand Apple.
He has always insisted on following the passion as a way to succeed.
"People with passion can change the world for the better"
Not only Steve Jobs, Mark Zuckerberg, and Sundar Pichai, if you look at most of the greats in the IT industry, they always had a passion for making the world a better place to live with technology. Moreover, they showed how being passionate about the work can make you stand out from the ordinary.
Thanks to the advancement of modern-day technologies, we have already gotten into the world of AI Cybersecurity and Metaverse. Who knows, we may even enter the world of the multiverse in the future with all the passionate IT brains out there.
What's even pleasing is that the young brains in India keep showing their passion by making notable contributions in the field of IT around the world.
Discovering the right talents and grooming their passion is integral to SPAN! We strive to provide an ideal opportunity for job aspirants to build, develop and take their careers to the greatest of heights. Apart from the skillset required for each designation, Passion, Curiosity, and Innovation are all we expect.
How will the world be without Engineering? It's hard to imagine. Isn't it? That's how significant Engineering is to us.
Every year on the 15th of September, the birth anniversary of Mokshagundam Visvesvaraya, the first Indian civil engineer, India celebrates National Engineer's Day, honoring the achievements and contributions of the engineers around the country.
Not just one or two, engineering has a vital impact on almost every field, every industry, and every discipline. With the wealth of knowledge and creativity they possess, engineers keep coming up with innovations and inventions that benefit humankind in one way or another.
For all these years, the evolution of engineering has made things we dreamt of into reality. Most of the creations we have today were once considered impossible. It's engineering that made the impossibles possible.
From construction to space science, medicine to information technology, and even the device in which you are reading this, engineering is everywhere! It complements our lifestyle in every possible way.
Every one of us would love to transform this world to be a more safe, problem-free, and more convenient space for people to live in.
And, you know what, we don't need a magic wand to change the world. Engineering is already doing that and will continue to do that in all the years to come.
It's quite obvious that engineering is not just a profession but more than that! It's an art! To learn this art, you need to be a dreamer, a creator, and a problem solver. As long as the passion for developing new things exists, engineering will keep soaring higher and higher!
It's better to work out than rust out!
– Mokshagundam Visvesvaraya
Let's start off with an imaginary scenario!
Imagine you are looking to buy something on an eCommerce website, let's say, a pair of shoes. After browsing through some shoes, you decide to purchase them later and close that tab.

After some time, you are visiting some other website, and suddenly you see multiple ads related to the shoes that you have browsed about a few moments ago.
Now, if you have experienced anything similar to this in real life (of course you would have), did you ever wonder what makes this happen? Well, here is the answer, Cookies!
Cookies are a small amount of data stored on the user's browser or device by a website to track their online behavior for various purposes.
Cookies are classified into two types:
First-party cookies:
Cookies are created and stored directly by the website that the users have visited. These cookies are primarily used by websites for functionality purposes.
Third-party cookies:
Third-party cookies are created and stored by third parties (websites other than the ones which the users have visited).
Significance of Third-Party Cookies in Advertising
Over the years, most advertisers have been able to track the online behavior of their users and display ads tailored to them on all the other websites they visit by making the best use of third-party cookies.
However, there were always questions and concerns about the impact of third-party cookies on users' privacy.
Considering that, In 2019, Mozilla Firefox started blocking third-party cookies by default for all users with its Enhanced Tracking Protection feature. This was seen as the starting point of what could be a huge turnaround in the world of digital technology.
In 2020, Apple, the tech giant, upgraded its Intelligent Tracking Prevention (ITP) feature with the ability to block all third-party cookies without exception.
Subsequently, In June 2021, Google announced that they were going to phase out third-party cookies in Google Chrome and started working toward building a more private web called 'Privacy Sandbox'.
Initially, their plan was to complete this process by the end of 2022. However, because of the increased time required to build Privacy Sandbox technology, they have delayed the process of phasing out third-party cookies to 2024.
What Impact Would this Have on Digital World?
Without third-party cookies, digital marketers around the world won't be able to track the online behavior and preferences of consumers. As a result, the relevancy of their ads may take a hit. They may not be able to display the right content for the right user.
Are there any alternatives?
Yes, there are a few alternatives available to counter the impact of the non-availability of third-party cookies. What are they?
Contextual Targeting
This is one of the most sought-after methods to enhance digital marketing strategies recently.
Contextual targeting involves serving advertisements based on the website's content.
Example: Placing an advertisement about smartwatches on a webpage that features an article about trending gadgets.
In this way, marketers can advertise their products/services in a non-intrusive manner.
Universal Identifier
In this method, a unique ID will be generated for each user that can be used to recognize the user across the partnered sites without syncing the cookies.
Developed on the basis of deterministic matching (finding an exact match), universal identifiers can also be more than handy in serving the relevant content to the users.
Google's Privacy Sandbox
Intended to streamline users' privacy and the digital marketing approach in tandem, Privacy Sandbox is proposed by Google as the ideal replacement for third-party cookies.
It functions by employing APIs (Application Programming Interface) instead of cookies to let the marketers understand the user's expectations.
As the Privacy Sandbox is still under development and most of its features are yet to be unleashed, we can get to know more in the near future about how it can transform the digital world.
Apart from these, many more techniques continue to emerge as alternatives to third-party cookies, and hopefully, marketers around the world may find the perfect one soon.
The digital world will continue to evolve, and we should always be ready to adapt always.
Because,
Change is the only constant. Isn't it?
It's that day of the year when every one of us feels extra enthusiastic about flaunting our patriotism! August 15, 2022, the day to remember, the day to cherish, and the day to celebrate our 75 years of Independence!
Nation First, Always First!
This is the theme of this year's Independence day!
As part of the 75th Independence day celebration, the government of India initiated a 75-weeks long campaign in March 2022 named 'Azadi Ka Amrit Mahotsav,' which means 'Elixir of Freedom.' It emphasizes our freedom struggles, Ideas, Resolve, Actions, and Achievements.
Thanks to our young brains, our technological, educational, and even medical growth are growing and keep growing. Not just that, we have turned heads around the world with our incredible achievements in space, sports, and many other fields.
Did you know?
The average life expectancy of an Indian rose to 70.19% in 2022 from around 32% in 1947. This shows we have shaped our lives in a healthy way.
Apart from all these achievements, there is one special virtue among us that makes us extremely proud, Unity in Diversity!
We are a country with numerous cultural, regional, geographical, and linguistic differences. More than 50 festivals are celebrated every year by people of various cultures and traditions.
When the sun is soaring high in one part of the country, rain pours down in some other part. From Kashmiri Apple to Kanyakumari sea shells, every region is renowned for different things. 
But, at the end of the day, this is India. We all are one, and we all are equal here! None of the differences can deny the fact that we all are Indians! 
No matter what, For us, it's Nation First, Always First, not only for this year but for all the years to come. Jai Hind!
Wishing everyone a Happy Independence Day!
Out of all the things that make the Earth a perfect place to live, Books hold special importance always. Do you know why?
Books are actually a reflection of our own lives, depicted with a blend of imagination and philosophies! No matter what genre it is, what type of content it has, or who wrote it, a book will always portray at least a tiny bit of ourselves in some part. That's how connected the books are to us!
The art of reading books takes us not only to the world of fantasies and fiction but to the place where we attain the peace of mind that we always crave for! It instills hope and motivation when we feel down, educates us when we feel uninformed, soothes us down when we are apprehensive, and feeds us with wisdom when we are oblivious. 
Joseph Addison, an English writer, once said, 
"Reading is to the mind what exercise is to the body." 
Intended to stay physically fit and healthy, we, the modern age people, focus on workouts and exercises a lot. But, it's equally important for us to prioritize our mental health too. And, reading books has always been one way of doing that!
Scientifically speaking, reading books can strengthen the connectivity of our brains while proving to be one efficacious source of reducing stress and improving concentration. Our memory power and vocabulary will be augmented automatically if we are good readers.
Sadly, the emergence of social media has considerably reduced the time we spend reading books. But, to be honest, books are never short of entertainment and infotainment when compared to the social media world. The choices it brings to a reader's table are incredibly enormous and versatile.
The pleasant feeling we get after completing a good book is unparalleled and can never be experienced with anything else.
We people at SPAN comprehend all these values of reading books. That's why we have created Span Reads, a club developed exclusively to promote the reading of books among all the SPANians. 
Every month we coordinate a virtual session to read and discuss any popular books with our SPANians. Till now, we have talked about a few amazing books, and some of them are, 
'Think And Grow Rich' written by Napoleon Hill,
'Eat That Frog' written by Brian Tracy,
'The Alchemist' written by Paulo Coelho,
'Fish!: A Remarkable Way to Boost Morale and Improve Results' written by Stephen. C. Lundin.
This is just the beginning. We are always dedicated to evolving the readers in us and will continue to do so.
Friendship! One thing that holds the world together and one of the things that humankind cherishes!
Sharing the Human Spirit through Friendship is the theme of Friendship day for 2022.
It strives to portray friendship as the way to ensure a peaceful and prosperous society.
While we are still in Friendship day week, we thought of bringing our perspective on how friendship plays a vital role in our work life and how it keeps our days enjoyable and productive.
On average, we spend 40 hours a week together with our colleagues at work. The companionship we share with them strengthens every day, and in a matter of time, the transformation between 'Just Colleagues' and 'Thick Buddies' occurs automatically.
And, once we have buddies at work, we don't have to seek any means of confidence boosters and stress busters. We will always have someone to laugh with, someone to chat with, someone to rely on, and more importantly, someone who trusts us and stands by us, no matter what!
At times, every one of us will go through hard days at work. Things may not go as planned. But our work friends will always be there to cheer us up, letting us move on to the next day with the same level of buoyancy.
Not just on Friendship week, our friends at work share the human spirit through their priceless friendship throughout the year.
"There is a recent analysis made by Officevibe that says, 70%  of the workers believe having work friends is highly essential for a happy work life."
This shows how valuable our work friends are! 
Now, what if we say, embracing friendship in our workplace can not only keep us happy but can have a great impact on the work we do as well?
Yes! Workplace Friendship spreads positivity in the air and builds a lively work environment. Lifting up our spirits every day, it makes us more energetic and enthusiastic about the work we do. And, when we are more energized and enthusiastic about our work, obviously, it results in improved efficiency and productivity. 
There is a popular quote related to this.
"A Sweet Friendship Refreshes the Soul!"
That's why, we at Span believe, Friendship is an integral part of us. We believe in forming a bunch of friends and not just colleagues. Together we work! Together we enjoy! Together we grow! And, Together we succeed!  
Wishing everyone a Happy Friendship Day.