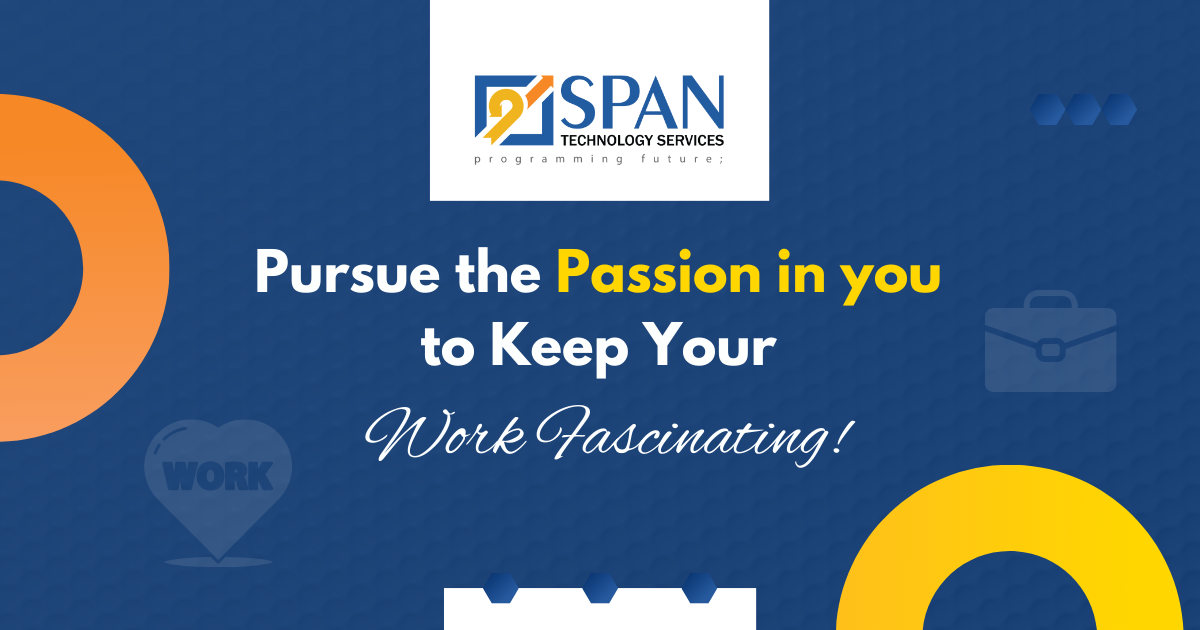 Do you know what makes our work more than just a way to make a living? Passion!
Passion is not just about finding what you do well. It's about finding the work that keeps you always inspirited no matter what.
Of course, building a successful career is what we all strive for!
You know what? When you are passionate about the work you do, you are halfway through achieving success. Especially when you want to build a career in the field of Information Technology, you must have that burning desire to learn and explore new things.
The IT field is extremely vast, and there are boundless aspects involved. Working with new technologies, Discovering solutions for existing challenges, or Developing innovative applications; what are you passionate about among all these? It's crucial to understand that.
And, when you have a clear-cut knowledge of areas you are passionate about and pursue your career in those areas, your work will automatically be fascinating and inspiring.
For example, take a look at Sundar Pichai! Having started his career as a Materials Engineer, Sundar discovered his passion for technology soon, and that paved the way for him to be the CEO of Google and an Idol for many!
Look at Mark Zuckerberg, the CEO of Meta platforms. Twenty years back, nobody would have believed if you said that a college dropout would change the world forever with his technological innovations. But he made it possible with his relentless passion for technology.
Here is another good example! Got fired from a company, and 12 years later, he returned back to the same company and not only revived it from getting bankrupt but made it one of the tech giants in the world. Yes, you guessed it right! It's Steve Jobs, the co-founder, and chief executive of the brand Apple.
He has always insisted on following the passion as a way to succeed.
"People with passion can change the world for the better"
Not only Steve Jobs, Mark Zuckerberg, and Sundar Pichai, if you look at most of the greats in the IT industry, they always had a passion for making the world a better place to live with technology. Moreover, they showed how being passionate about the work can make you stand out from the ordinary.
Thanks to the advancement of modern-day technologies, we have already gotten into the world of AI Cybersecurity and Metaverse. Who knows, we may even enter the world of the multiverse in the future with all the passionate IT brains out there.
What's even pleasing is that the young brains in India keep showing their passion by making notable contributions in the field of IT around the world.
Discovering the right talents and grooming their passion is integral to SPAN! We strive to provide an ideal opportunity for job aspirants to build, develop and take their careers to the greatest of heights. Apart from the skillset required for each designation, Passion, Curiosity, and Innovation are all we expect.